The Godmakers
Copyright 1972 by
I first read this in 1975 and most recently on the 26th February 2003
Thousands of years in the future, there's a new Galactic empire, growing out of the ashes of the Rim Wars. It is intent on finding once more the lost colonies of man. It is also intent on avoiding war.
Lewis Orne has just qualified as an agent of the Rediscovery and Reeducation Service. His mission is to inspect the newly-rediscovered planets and to determine if their civilisation are safe to be re-introduced or whether they pose a military threat to the new Empire.
Orne is uncannily successful at detecting the secret signs of such danger, but not so successful in avoiding personal harm. On the planet Sheleb, Orne is attacked and left for dead.
But Orne won't be allowed to die yet. The God Makers of the planet Amel still have need of him. But do they want to cast him into the fires of hell, praise him as a prophet, or make him a God?
This was not one of Frank Herbert's better books. Nowadays I think of it as a little portentous and pretentious, but I probably had a higher opinion of it when I read it as a bratlet. Sadly I can't remember what I thought of it back then. All that I can recall is the paperback's cover, on the subject of which...
Loved the cover! Even though it was totally irrelevant to the book. The cover image and the book itself are burnt into my memory. Any time I see a naked women on broken, brown-coloured ice, I automatically think of this book. Any time anyone says "Herbert", or even "Sherbert", I think of naked women. I even salivate, though that's probably more the association with sherbet.
The back cover is a continuation of the front cover painting, although sadly without any more naked women, and it contains a thoughtful little footnote: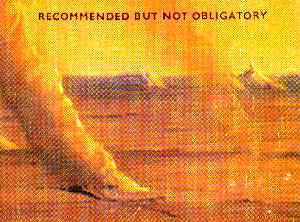 which was rather nice.
What's it got? secret agent escapades in exotic environments, fabulous psi powers and gods and gods' creations.
Loaded on the 28th February 2003.